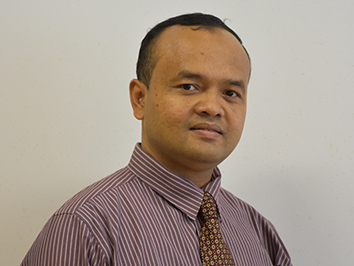 https://acadstaff.ugm.ac.id/pranoto
---
Education
Undergraduate : Food and Agricultural Product Technology, Universitas Gadjah Mada, Indonesia
Master : Estate Crop Product Technology, Universitas Gadjah Mada, Indonesia
Doctorate : Food Bioprocess Technology, Asian Institute of Technology, Thailand
Post-Doctorate : Biopolymer Technology, Korea University, Republic of Korea
---
Research Interests
Carbohydrate, Starch Technology, Hydrocolloid, Food Processing
---
Current Researches
Modification of starches to improve properties and functionalities for food application
Isolation and innovation of fish skin gelatin from by-product of fish processing industry
Study on nanotechnology for food application
---
Publications
1. Journal Articles
Suharyani Amperawati, Pudji Hastuti, Yudi Pranoto, and Umar Santoso, 2019. Extraction Frequency Effectiveness and Effect of Temperature and Light on Anthocyanin and Antioxidant Capacity of Rosella Petal Extract (Hibiscus sabdariffa L.). Jurnal Aplikasi Teknologi Pangan 8 (1), 38 – 45.
Tanwirul Millati, Yudi Pranoto, Tyas Utami and Nursigit Bintoro, 2019. Physicochemical Properties, In vitro Starch Digestibility and Estimated Glycemic Index Following the Accelerated Aging of Freshly Harvested Rice. Pakistan Journal of Nutrition. 18 (4), 346 – 353.
Ervika Rahayu, Dini Ariani, Miftakhussolikhah Miftakhussolikhah, Maharani P Elfanti, and Yudi Pranoto, 2019. The Effect of Yellow Natural Color from Turmeric on Physical and Sensory Properties of Arenga Starch-Taro (Colocasia esculanta L.) Flour Noodle. Indonesian Journal of Natural Pigments, 1 (1), 16 – 16.
Indiarto, R., Pranoto, Y. and Santoso, U., 2018. In vitro Antioxidant Activity and Profile of Polyphenol Compounds Extracts and their Fractions on Cacao Beans. Pakistan Journal of Biological Sciences, 22 (1), 34 – 44.
Dina Sugiyanti, Purnama Darmadji, Umar Santoso, Yudi Pranoto, Chairil Anwar, and Sri Anggrahini, 2018. Biological Activity of Native and Low Molecular Weight Chitosan obtained by Steam Explosion Process. Pakistan Journal of Biological Sciences, 21(9), 441-447.
Riyanti Ekafitri, Yudi Pranoto, Ainia Herminiati, and Taufik Rahman, 2018. Modified Bogor Taro Flour Using Hydrogen Peroxide With and Without UV Light Irradiation. Jurnal Riset Teknologi Industri, 12 (2), 86-98.
Novita Indrianti, Yudi Pranoto, and Akmadi Abbas, 2018. Preparation and Characterization of Edible Films Made from Modified Sweet Potato Starch through Heat Moisture Treatment. Indonesian Journal of Chemistry, 18 (4), 679 – 687.
L Arsyanti, Y Erwanto, A Rohman, Y Pranoto, 2018. Chemical composition and characterization of skin gelatin from buffalo (Bubalus bubalis). International Food Research Journal, 25 (3), 1095 – 1099.
Tanwirul Millati, Yudi Pranoto, Nursigit Bintoro, and Tyas Utami, 2017. The Effect of Storage Temperature on Freshly Harvested Wet Grain to The Physical Quality Change of Milled Rice. Agritech, 37(4), 477-485.
Sellen Gurusmatika, Kosuke Nishi, Eni Harmayani, Yudi Pranoto and Takuya Sugahara, 2017. Immunomodulatory activity of octenyl succinic anhydride modified porang
(Amorphophallus oncophyllus) glucomannan on mouse macrophage-like J774.1 cells and mouse primary peritoneal macrophages. Molecules 2017, 22, 1-13.
Winarti, S., Harmayani, E., Marsono, Y. and Pranoto, Y., 2017. Florescent in situ hybridization (FISH) method for quantification colonic microbiota Sprague Dawley rats with
diet containing inulin from lesser yam tubers (Dioscorea esculenta L.). International Food Research Journal 24(2): 839-846.
S. Mulyani, F. M. C. S. Setyabudi, Y. Pranoto, U. Santoso, 2017. The effect of pretreatment using hydrochloric acid on the characteristics of buffalo hide gelatin. Journal of the
Indonesian Tropical Animal Agriculture Vol. 42 No. 1, 14-22.
Maherawati, Tyas Utami, Yudi Pranoto and Nur Cahyanto, 2017. Activity and stability of linamarase from cassava (Manihot Esculenta Crantz) leaves and its ability to hydrolyze linamarin. The International Journal of Science & Technology, 5 (3): 82-87.
Nuri Arum Anugrahati, Yudi Pranoto, Yustinus Marsono, Djagal Wiseso Marseno, 2017. Structural Changes in Cooked Rice Treated with Cooling-Reheating Process and Coconut Milk Addition as Observed With FT-IR and 13 C NMR. Agritech, Vol 37 No 1, 77-80.
Nurfitri Ekantari, Eni Harmayani, Yudi Pranoto and Yustinus Marsono, 2017. Calcium of Spirulina platensis has Higher Bioavailability than those of Calcium Carbonate and High-calcium Milk in Sprague Dawley Rats Fed with Vitamin D-deficient Diet. Pakistan Journal of Nutrition, Vol. 16, 179-186.
Stefani Amanda Harmani, Haryadi, Muhammad Nur Cahyanto, dan Yudi Pranoto, 2016. Potensi spaghetyini komposit semolina durum-pati ganyong dalam pembentukan short chain fatty acid dan asam laktat pada fermentasi menggunakan microflora feses manusia. Agritech Vol. 36 No. 2, 189-195.
Nurfitri Ekantari, Eni Harmayani, Yudi Pranoto and Yustinus Marsono, 2016. Temperature and baking duration changes the physicochemical properties, dietary fiber content, and in vitro calcium bioavailability of Spirulina platensis. Food Science and Quality Management, Vol. 53, 39-48.
Dwi Wulandari, Suharjono Triatmojo, Yuny Erwanto and Yudi Pranoto, 2016. Physicochemical properties and amino acid and functional group profiles of gelatin extracted from bovine split hide cured by acid. Pakistan Journal of Nutririon, 15(7), 655-661.
Satrijo Saloko, Purnama Darmadji, Bambang Setiaji, Yudi Pranoto and Sri Widyastuti, 2016. Determination of principal volatile compounds of nanocapsulated coconut shell-liquid smoke as a food biopreservative. Journal of Advances in Food Science & Technology, 3(3), 114-118.
Retno Ayu Kurniasih, Purnama Darmadji dan Yudi Pranoto, 2016. Pemanfaatan asap cair terenkapsulasi maltodekstrin-kitosan sebagai pengawet ikan cakalang (Katsuwonus pelamis). Jurnal Teknologi Hasil Pertanian Vol. IX No. 1, Februari 2016, 9-16.
Ikrar Taruna Syah, Purnama Darmadji and Yudi Pranoto, 2016. Microencapsulation of refined liquid smoke using maltodextrin produced from broken rice starch. Journal of Food Processing and Preservation, Vol. 40 issue 3, 437-446.
Nuri A. Anugrahati, Yudi Pranoto, Y. Marsono, and Djagal W. Marseno, 2015. In vitro digestibility of Indonesian cooked rice treated with cooling-reheating process and coconut milk addition. International Research Journal of Biological Sciences, Vol. 4(12), 34-39.
Dodik Suprapto, Nurliyani dan Yudi Pranoto, 2015. Pengaruh konsentrasi curd terhadap mutu snack susu. Jurnal Penelitian Pascapanen Pertanian, Vol. 12 No. 3, Desember 2015, 115-123.
Subaryono, Tazwir, Amir Husni, Ustadi dan Yudi Pranoto, 2015. Aplikasi campuran alginate dari Sargassum crassifolium dan gum sebagai pengental textile printing. Jurnal Pascapanen dan Bioteknologi Kelautan dan Perikanan Vol 10 No. 2, 155 – 161.
Hilda Novianty, Purnama Darmadji, Yudi Pranoto and Suharwadji, 2015. Utilization of alginate as an encapsulation model of coconut shell liquid smoke. Marine Research in Indonesia, 40 (1): 1-8.
Sri Hartati, Purnama Darmadji, Yudi Pranoto, 2015. Utilization of coconut shell liquid smoke to reduce lead (Pb) levels in soybean seeds (Glysine max). Agritech 35 (3): 331-339.
Reny Mailia, Bara Yudhistira, Yudi Pranoto, Saiful Rochdyanto and Endang Sutriswati Rahayu, 2015. Heat resistance of Escherichia coli, Staphylococcus aureus, Bacillus cereus and spore forming bacteria contamination isolated from tofu production at Sudagaran Yogyakarta. Agritech, 35 (3): 300-308.
Pranoto, Y., Rahmayuni, Haryadi and Rakshit, S. K., 2014. Physicochemical properties of heat moisture treated sweet potato starches of selected Indonesian varieties. International Food Research Journal, 21(5): 2031-2038.
Dego Yusa Ali, Purnama Darmadji and Yudi Pranoto, 2014. Optimization of coconut shell liquid smoke nanoencapsulation using Response Surface Methodology and Nanocapsules Characterization. Jurnal Teknologi dan Industri Pangan, Vol. 25 No. I, 23-30.
Satrijo Saloko, Purnama Darmadji, Bambang Setiaji and Yudi Pranoto, 2014. Antioxidative and antimicrobial activities of liquid smoke nanocapsules using chitosan and maltodextrin and its application on tuna fish preservation. Food Bioscience, 7, 71-79.
Fatchul Anam Nurlaili, Purnama Darmadji and Yudi Pranoto, 2014. Microencapsulation of Pulp Ginger (Zingiber officinale var.Rubrum) Oleoresin with Maltodextrin Coating. Agritech Vol. 34 No.1, 22-28.
Sri Winarti, Eni Harmayani, Yustinus Marsono and Yudi Pranoto, 2013. Effect of foaming in drying of lesser yam inulin (Dioscorea esculante) on the physicochemical characteristics and prebiotic activities. Agritech, 33 (4), 424-432.
Satrijo Saloko, Purnama Darmadji, Bambang Setiaji, Yudi Pranoto and Anil Kumar Anal, 2013. Encapsulation of coconut shell liquid smoke in chitosan-maltodextrin based nanoparticles. International Food Research Journal Vol 20 (3), 1573-1580.
Yudi Pranoto, Sri Anggrahini and Zulman Efendi, 2013. Effect of natural and Lactobacillus plantarum fermentation on in-vitro protein and starch digestibilities of sorghum flour. Food Bioscience Vol 2, 46-52.
Doddy Sutono and Yudi Pranoto, 2013. Seaweed Extract Kappaphycus alvarezii as a cross linking agent for edible film formation from black tilapia (Oreochromis mossambicus) skin gelatin. Agritech Vol. 33, No. 2, 168-175.
Rahim, A., Haryadi, Nurcahyanto, M.N., Pranoto, Y. and Hutomo, G.S., 2013. Prebiotic potential and characteristics of in vitro fermentation products of resistant starch from but butyrulated arenga starches by human colony microbiota. International Journal of Biology, Pharmacy and Allied Sciences Vol. 2 (5), 980-994.
Sri Winarti, Eni Harmayani, Y. Marsono and Yudi Pranoto, 2013. Effect of inulin isolated from yam (Dioscorea esculanta) on the growth of probiotic bacteria and SCFA formation during fermentation. International Research Journal of Microbiology Vol. 4 (2), 53-63.
Satrijo Saloko, Purnama Darmadji, Bambang Setiaji and Yudi Pranoto, 2012. Structural analysis of spray dried coconut shell liquid smoke powder. Jurnal Teknologi dan Industri Pangan Vol. XXIII No.2, 173-179.
Sompie, M., Triatmojo, S., Pertiwiningrum, A. and Pranoto, Y., 2012. The effect of animal age and acetic acid concentration on pigskin gelatin characteristics. Journal of the Indonesian Tropical Animal Agriculture Vol 37 (3), 176-182.
Yudi Pranoto, Djagal Wiseso Marseno and Haryadi, 2012. Shelf-life Prediction of Partially Defatted Peanut Coated with Carboxymethyl Cellulose Using Accelerated Shelf-Life Test (ASLT) Method. Agritech Vol. 32 No. 3, 301-307.
Abdul Rahim, Haryadi, Muh. Nur Cahyanto and Yudi Pranoto, 2012. Structure and functional properties of resistant starch from butyrylated arenga starches. African Journal of Food Science Vol. 6(12), 335-343.
Abdul Rahim, Haryadi, Muh. Nur Cahyanto and Yudi Pranoto, 2012. Characteristics of butyrylated arenga starch prepared at different reaction time and butyric anhydride concentration. International Food Research Journal Vol. 19 (4), 1655-1660.
Amir Husni, Subaryono, Yudi Pranoto, Tazwir dan Ustadi, 2012. Development of alginate extraction method from Sargassum sp. as thickening. Agritech Vol 32 No 1, 1-8.
Pranoto, Y., Marseno, D.W. and Rahmawati, H., 2011. Characteristics of gelatins extracted from fresh and sun-dried seawater fish skins in Indonesia. International Food Research Journal 18(4), 1335-1341.
Dimas Rahadian Aji Muhammad, Purnama Darmadji, and Yudi Pranoto. 2011. Effect of distillation temperature and stage of condenser on sensory characteristic of liquid smoke distillate. Jurnal Teknologi Hasil Pertanian (National journal), Vol. IV No. 2 Agustus 2011.
Elisa, Purwanto, S.H., Aman, A.T., Pranoto, Y. and Kusmono, 2011. Properties of endotracheal tubes reprocessed by two Procedures. Paediatrica Indonesiana Vol. 51, No. 2, 73-78.
Elisa, Purwanto, S.H., Aman, A.T., Pranoto, Y. and Kusmono, 2011. Evaluasi Mikrobiologi dan Sifat Mekanik Kateter Penghisap yang Dipakai Ulang: Perbandingan antara Dua Prosedur Pemrosesan (Indonesian language). Sari Pediatri Vol. 12, No. 5, 328-334.
Made Darawati and Yudi Pranoto, 2010. Ether cellulose coatings on partially defatted peanuts by dipping to reduce oil uptake during frying and to increase oxidative stability during storage. Jurnal Teknologi dan Industri Pangan (Accredited national journal). Vol. XXI No.2, 108-115.
Pranoto, Y., Marseno, D.W. and Haryadi, 2009. Methylcellulose and hydroxyprophyl methylcellulose based coatings on partially defatted peanut to reduce frying oil uptake and enhance oxidative stability. Asian Journal of Food & Agro-Industry, Vol 2 issue 4, 891-900.
Pranoto, Y and Rakshit, SK., 2008. Effect of chitosan coating containing active agents on microbial growth, rancidity, and moisture loss of meatball during storage. Agritech, Vol 28, No.4, 167-173.
Pranoto, Y., Lee, C.M. and Park, H.J., 2007. Characterizations of fish gelatin films added with gellan and κ carrageenan. LWT Food Science and Technology. Vol.40, Issue 5, 766-774.
Pranoto, Y., Rakshit, S.K. and Salokhe, V.M., 2005. Enhancing antimicrobial activity of chitosan film by incorporation with garlic oil, potassium sorbate and nisin, LWT Food Science and Technology, Vol. 38, Issue 8, 859-865.
Pranoto, Y., Salokhe, V.M. and Rakshit, S.K., 2005. Physical and antibacterial properties of alginate-based edible film incorporated with garlic oil. Food Research International, Vol. 38, Issue 3, 267-272.
Pranoto, Y., Rakshit, S.K. and Salokhe, V.M., 2005. Mechanical and antimicrobial characterization of edible films based on alginate and chitosan containing garlic oil. Developments in Chemical Engineering and Mineral Processing-The Australian Research Journal, Special Theme Issue: Bioprocess and Environmental Biotechnology Research, 13 (5/6), pp. 617-626.
Pranoto, Y., Darmadji, P. and Suhardi, 2001. Optimization of elongation at break and PRI (Plasticity Retention Index) properties on sheet rubber production utilizing liquid smokes as coagulant. (Abstract in English). Agrosains, Vol.14, No.1, 71-82
2. Conferences
ERN Herawati, M Miftakhussolikhah, R Nurhayati, KW Sari, and Y Pranoto, 2019. Oligosaccharides Profile and Prebiotic Potential of Gembolo Tuber (Dioscorea bulbifera). IOP Conference Series: Earth and Environmental Science, 251 (1), 012048.
Novita Indrianti and Yudi Pranoto, 2018. Physicochemical properties of modified sweet potato starch through heat moisture treatment. AIP Conference Proceedings, 2024 (1), 020053.
Angela Myrra Puspita Dewi, Desi Natalia Edowai, Yudi Pranoto and Purnama Darmadji, 2018. Sintesis Nanoselulosa Asetat dari Ampas Sagu Dengan Metode Electrospinning. Prosiding SNST Fakultas Teknik, 1 (1),
I Kusumaningrum, Y Pranoto, and S Hadiwiyoto, 2018. Extraction optimization and characterization of gelatine from fish dry skin of Spanish mackerel (Scomberromorus commersoni). IOP Conference Series: Earth and Environmental Science, 44 (1), 012036.
Yudi Pranoto, Kusuma Arumsari, and Purnama Darmadji, 2017. Nanoencapsulation of vitamin C based on tuna (Thunnus albacares) skin gelatin. Presented at The 10 th International Conference and Exhibition on Nutraceuticals and Functional Food (ISNFF) 201, October 22-25, 2017, Gunsan, Korea.
Yudi Pranoto, Abdi Christia, and Sardjono, 2016. Effect of fermentation by Rhizopus oligosporus and Amylomyces rouxii on in-vitro starch and protein digestibility of decorticated red sorghum Presented at International Conference Sustainable Agriculture, Food and Energy (SAFE) 2016, October 20-22, 2016, Colombo, Sri Lanka.
Yudi Pranoto, 2016. Technological approach to enhance the usage of tropical starches. Presented at The 1st International Conference on Science and Technology (ICST) 2016, December 1-2, 2016, University of Mataram, Lombok, West Nusa Tenggara.
Yudi Pranoto, Mawaddah Istigani, Umar Santoso, Lily Arsanti Lestari, Yuny Erwanto and Abdul Rohman, 2015. Physicochemical properties of gelatin extracted from fivelined threadfin bream (Nemipterus tambuloides) skins. Presentend at 2nd International Conference on Agroindustry "Competitive and Sustainable Agro-industry for Human Welfare", November 7-9 November, 2015, Ehime University, Japan.
Yudi Pranoto, Purnama Darmadji and Ratna Yulia Sitosari 2013. Microencapsulation of bay leaf essential oil with maltodextrin by spray drying method. Presented at International Conference on Postharvest Technology, Food Chemistry and Processing: Developing The Supply Chain Towards More Healthy Food, November 11-13, 2013, Hanoi, Vietnam.
Yudi Pranoto, Tyas Utami and Rusli Fidriyanto, 2013. Improvement of nutritional value in sorghum seed by natural fermentation. Presented at 2013 ICC Conference in Association with the 63rd Australian Cereal Chemistry, August 25-28, 2013, Fremantle, West Australia.
Yudi Pranoto and Haryadi, 2011. Application of Heat Moisture Treatment in sweet potato starch var. Papua Salosa for starch noodle production. Presented at National Seminar of Indonesian Life Cycle Assessment on Food Products and Recent Progress in Agroindustry, November 23-24, 2011, Yogyakarta, Indonesia.
Yudi Pranoto, Tyas Utami, Priyanto Triwitono and Zulianatul Hidayah, 2010. Changes on microbiological, physicochemical and starch digestability properties of spontaneous fermented sorghum flour. Presented at International Conference on Food Safety and Food Security, December 1-4, 2010, Yogyakarta, Indonesia.
Yudi Pranoto, Rahmayuni, Haryadi and Sudip Kumar Rakshit, 2010. Physicochemical properties of heat moisture treated sweet potato starches of Indonesian typical varieties. Presented at 10th International Hydrocolloid Conference, June 20-24, 2010, Shanghai, China.
Pranoto, Y., Supriyanto, Rahayu, ES. and Rahmianna, AA., 2009. Drying of fresh in-shell peanut using solar hybrid dryer to minimize fungal growth and aflatoxin contamination. Presented at ISM Conference 2009 "Worldwide Mycotoxin Reduction in Food and Feed chains", September 9-11, 2009, Tulln, Austria.
Pranoto, Y., Marseno, D.W. and Haryadi, 2009. Methylcellulose and hydroxyprophyl methylcellulose based coatings on partially defatted peanut to reduce frying oil uptake and enhance oxidative stability. Presented at Food Innovation Asia Conference 2009, June 18-19, 2009, Bangkok, Thailand.
Pranoto, Y., Amanah, H.Z., Utami, T. and Rahayu, E.S., 2007. Study on factors affecting aflatoxin B1 binding by Lactobacillus acidophilus SNP-2. Presented at International Agricultural Engineering Conference (IAEC). December 3-6, 2007, Bangkok, Thailand.
Pranoto, Y., Salokhe, V.M. and Rakshit, S.K., 2003. Physical and antibacterial properties of alginate-based edible film incorporated with garlic oil. Presented at 5 th International Conference of Food Science and Technology, October 22-24, 2003, Wuxi, China.
Pranoto, Y., 2001. Current status and future prospects of tropical fruit based agribusiness in Indonesia. In V.M. Salokhe and A. Hicks (eds). Presented at the FAO sponsored Regional Workshop on Agribusiness Development Trough Agricultural Engineering Applications to Agricultural Products, (pp 101-108), November 29-30, 2001, Asian Institute of Technology, Thailand.
---
Achievements
2017, selected as promotor of PMDSU Scholarship for Master to Doctor Program, under Ministry of Research, Technology and Higher Education, Republic of Indonesia.
2014, selected as an assessor of BAN-PT, National Accreditation Board-Higher Education, Ministry of Ministry of Research, Technology and Higher Education, Republic of Indonesia.
2014, received VLIR-UOS Sponsorship to participate in Workshop "Local added value creation through knowledge transfer in cocoa and chocolate processing", June, 11 – 26, 2014,
held in Faculty of Bioscience Engineering, Ghent University, Belgium.
2004, received Post-doctoral Fellowship grant from KOSEF (Korea Science and Engineering Foundation) FY 2004 to conduct research in Korea University, Republic of Korea.